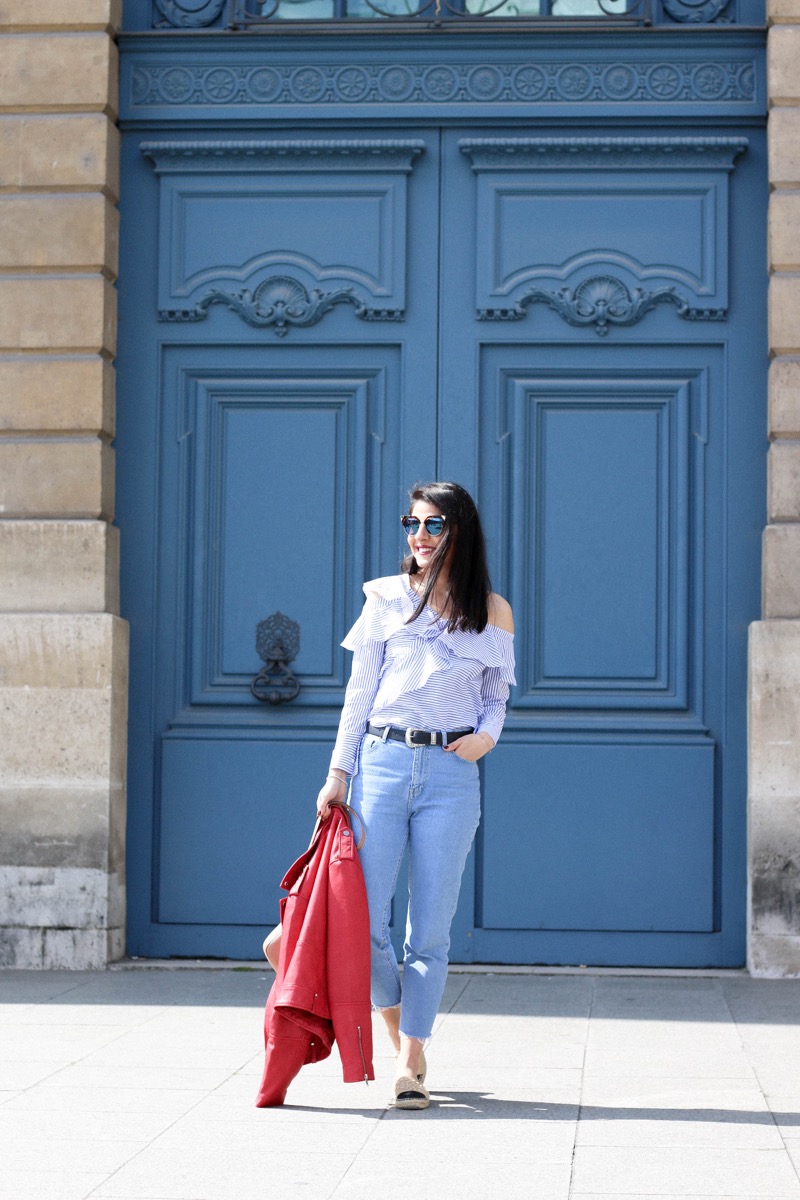 Heute zeige ich euch mein zweites Outfit aus Paris. Eigentlich ist das vom letzten Tag, weil ich am zweiten Tag keine Outfit Fotos gemacht habe. Das Wetter war in der Früh leider sehr schlecht und danach habe ich einfach darauf vergessen, weil wir shoppen waren. Aber zum Glück habe ich am ersten Tag gleich zwei Looks geshootet. Diesen wird es dann in den kommenden Tagen hier auf dem Blog geben.
An unserem letzten Tag in Paris sind wir früh aufgestanden, weil das Wetter endlich schön und auch warm war. Die restlichen Tage hatten wir leider Pech mit dem Wetter. Es hat sogar kurz mal gehagelt. Wir waren im Eric Kayser frühstücken, darüber werde ich euch aber noch in einem separaten Beitrag berichten. So viel kann ich euch schon mal verraten, es war lecker! Danach haben wir uns auf den Weg zum Chanel Rue Cambon Store gemacht (auf dem Weg dort hin sind noch durch den Place Vendôme geschlendert) und ich musste leider feststellen, das der Store gerade renoviert wird.
Ihr könnt euch gar nicht vorstellen wie enttäuscht ich war. Ich wollte mir nämlich unbedingt eine Chanel-Brosche aus diesem Store kaufen, aber daraus wurde leider nichts und in den anderen Stores wurde ich dann auch nicht fündig! Danach waren wir auf der Saint Honoré. Wir waren im Colette, dort habe ich total süße Pins gefunden und dann habe ich mir noch meine Lieblingskerze im wunderschönen Diptique Store geholt.
Danach haben wir einen kurzen Stop beim Eiffelturm gemacht, damit wir es bei Schönwetter auch mal sehen und sind dann weiter in Richtung Saint Germain gedüst. Dort waren wir dann unter anderem im Le Bon Marché, wo ich leider wieder nicht fündig wurde. Ich weiß wirklich nicht, warum ich auf meinen Reisen nie etwas finde. Wir sind übrigens jeden Tag um die 16 km gegangen und waren auch dementsprechend müde. Aber am letzten Abend haben wir uns den Eiffelturm noch angesehen und es war wirklich ein tolles Erlebnis! Das war auch schon der letzte Tag in Paris! Meinen zweiten Tag werde ich euch dann im nächsten Outfit Post berichten! Ich hoffe, ich habe euch nicht verwirrt:)
Shop my Look:
Mom Jeans: Bershka (similar here & here)
Shirt: *Romwe  (shop here)
Red Leather Jacket: Mango (very similar here)
Espadrilles: Chanel (more affordable version here)
Bag: Gucci (shop here)
Belt: Asos (shop here)
Sunnies: Fendi (shop here)
English: Today I wanna show you my look from our last day in Paris. The second day I forgot to shoot my outfit because the weather was really bad and in the afternoon we were at the Galeries Lafayette. But lucky me I shot two looks on the first day so there will be one more outfit from Paris were I'll tell you what we did on our second day!
On our third and last full day in Paris we had breakfast at Eric Kayser, I'll tell you more about this place in a separate post, and afterwards we walked to the Place Vendôme. Saint Honoré, the Eiffel Tower, Arc de Triomphe and Saint Germain were also parts of our third day. Luckily the weather was really good on our last day so we wanted to explore as much as it was possible. We also had quick stops at Colette and Le Bon Marché. I really love Le Bon Marché but unfortunately I haven't found anything.
After our little shopping trip we had coffee and Crêpes in Saint Germain and after dinner we went to see the Eiffel Tower when the lights are on. It was really magical. This was our third day. Hope you've enjoyed reading it! Have a great day!
*in friendly collaboration with Romwe