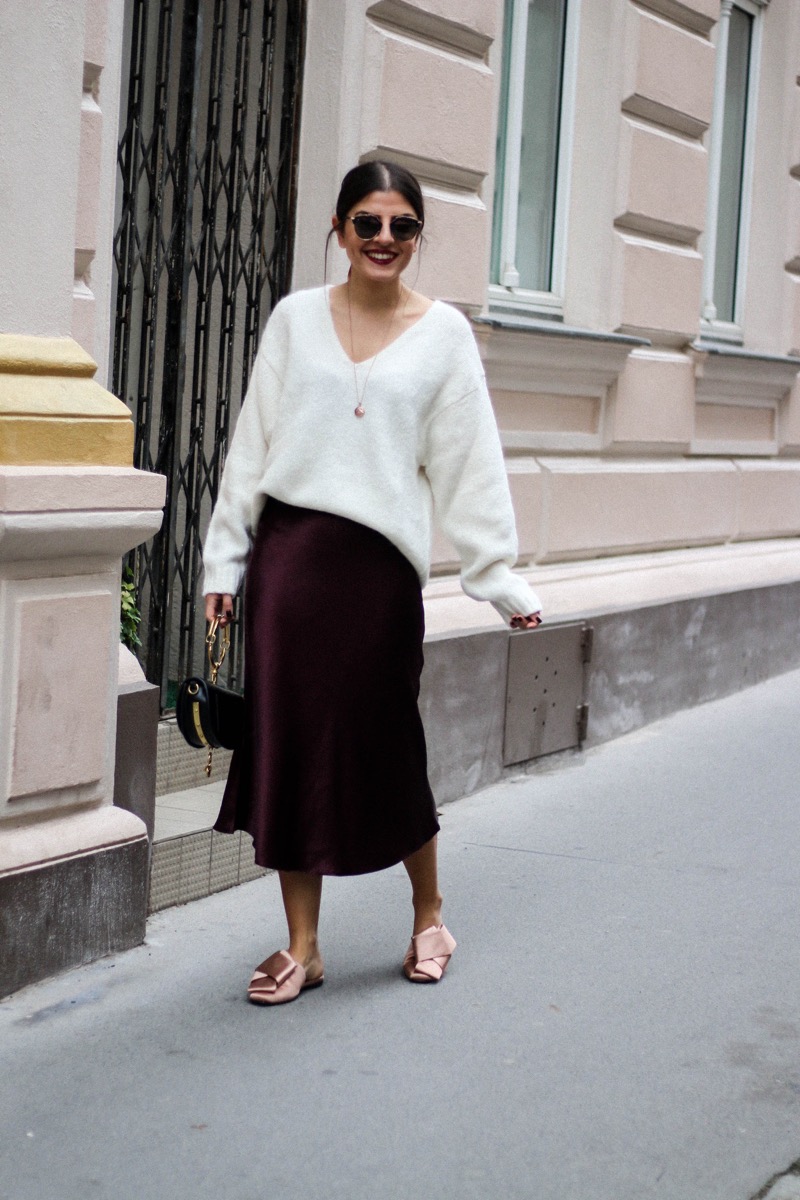 Schönen Sonntag, ihr Lieben! Heute möchte ich euch meinen Look mit dem Satin Midi Rock, den ich übrigens vor einigen Wochen geshootet habe. Wundert euch also nicht, über die nackten Beine:) Bei diesen Temperaturen könnte ich natürlich ohne Strumpfhose keinen Rock tragen. Nun aber zu meinem Outfit! Ich trage einen dunkelroten Satin Midi Rock kombiniert mit einem weißen übergroßen Pullover. Ich mag Satin zwar sehr gerne, gehe aber vorsichtig mit dem Stoff um. Der Stoff an sich ist ja nicht sehr alltagstauglich, deshalb habe ich den Rock mit einem Wollpullover kombiniert. Der Pullover lockert den Look auf und hält auch sehr warm.
Ich finde es extrem schwierig, diese Art von Looks zu tragen, vor allem in Österreich. Es ist nämlich entweder warm oder kalt. Diesen Herbst hatten wir aber wirklich das perfekte "Rock+Boots" Wetter. Es hatte genau die richtige Temperatur, um einen Rock mit Pullover oder Boots zu kombinieren und das musste ich natürlich sofort ausnutzen. Das war aber mein letzter Look ohne Strumpfhose, denn es ist schon richtig kalt hier in Wien. So kalt, dass man ohne Schal, das Haus nicht mehr verlassen kann. Wie gefällt euch mein Look mit dem Satin Midi Rock?
Shop my Look:
Satin Midi Skirt: H&M (similar here & here)
V-Neck Knit: H&M (similar here & here)
Satin Mules: H&M (similar here)
Bag: FTW Shop (similar here)
Hair Scarf: Fendi (shop here & here)
Necklace: Turkey (also love this one)
Sunglasses: Dior (shop here & here)
English: Happy Sunday, my lovelies! Today I'm here with a look which I shooted a few weeks ago. A few weeks ago it was warm and I was able to wear a Midi Skirt without tights. Normally we can't wear this kind of looks here in Austria because it's either hot or really cold. This autumn we had the perfect weather to wear skirts with boots or with a knit like I'm wearing in this look.
I've combined a burgundy Satin Midi Skirt with a V-Neck knit. Satin is a bit tricky to wear for everyday occasions but combined with other materials like wool it's perfect for everyday. I also love the mix of burgundy and off-white. How do you guys like this look?
*dieser Beitrag enthält Affiliate-Links 
MerkenMerken