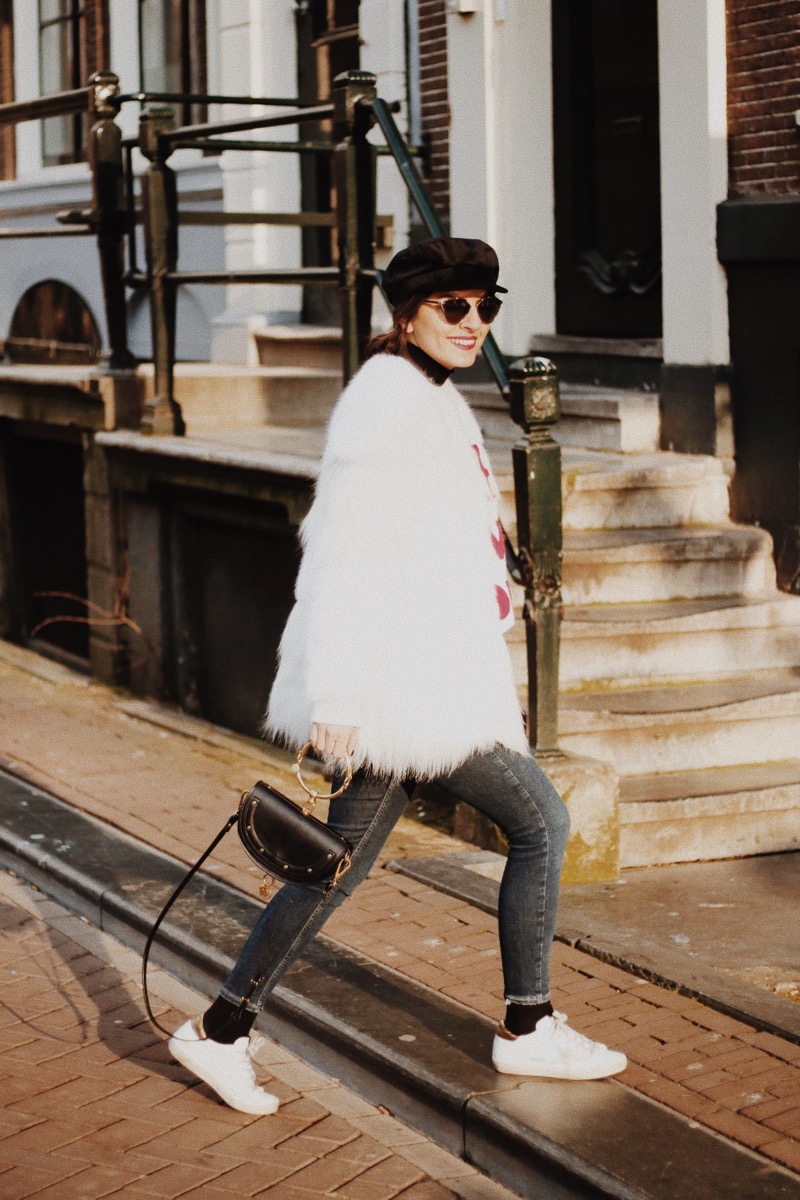 Amsterdam stand nie wirklich auf meiner Travel Bucket List. Ich weiß nicht, was der Grund dafür war, aber sie war nicht eines dieser Städte, die ich unbedingt sehen wollte. Letzte Woche war es dann aber so weit und ich habe einen ganzen Tag in Amsterdam verbracht. Von meiner Cousine, die in Duisburg lebt, sind es nämlich nur 2 Stunden nach Amsterdam. Da wäre es ja blöd, wenn ich die Möglichkeit nicht ausgenutzt hätte.
Wir sind in Amsterdam angekommen und ich war sofort hin und weg. Die Architektur fand ich sehr beeindruckend und natürlich die Kanäle. Wir haben direkt ein Nutella-Crepe verschlungen, was richtig lecker war und haben danach die Stadt erkundet. Die engen Gassen, die Häuser und generell die Atmosphäre fand ich toll. Amsterdam hat mich so sehr beeindruckt, dass ich am Ende des Tages gesagt habe, dass ich unbedingt noch einmal hin will, um die Stadt genauer zu erkunden.
Getragen habe ich meine geliebte Jamie Jeans von Topshop, einen Pullover mit der Aufschrift "More Love More", eine neue Faux Fur Jacke und meine Golden Goose Sneaker. Als Accessoire habe ich mich für ein Baker Boy Hut entschieden. Ich finde diese Hüte wirklich super und habe auch schon einige andere Modelle bestellt. Wie gefällt euch dieser Look?
Shop my Look:
Jeans: Topshop Jamie (similar here)
Sweater: Stradivarius (shop here)
Faux Fur Jacket: Zara (very similar here & here)
Baker Boy Hat: Zara (similar here & here)
Sunglasses: Dio So Real (shop here & here)
Bag: FTW Shop (similar here)
Sneakers: Golden Goose Deluxe Brand (shop here)
English: Amsterdam was never on my Travel Bucket List but last week I spend a whole day in Amsterdam and guess what? I loved it! The architecture was breathtaking and I also loved the canals and the vibe of the city. I only spend a few hours in the City but I loved it so much that I'll come back for sure to explore more.
I was wearing my beloved Jamie Jeans from Topshop, a slogan sweater, my new white faux fur jacket and Golden Goose Sneakers. I've dressed the look up with a velvet baker boy hat and my Dior So Real Sunglasses. How do you like this look?
*dieser Beitrag enthält Affiliate-Links 
MerkenMerken
MerkenMerken