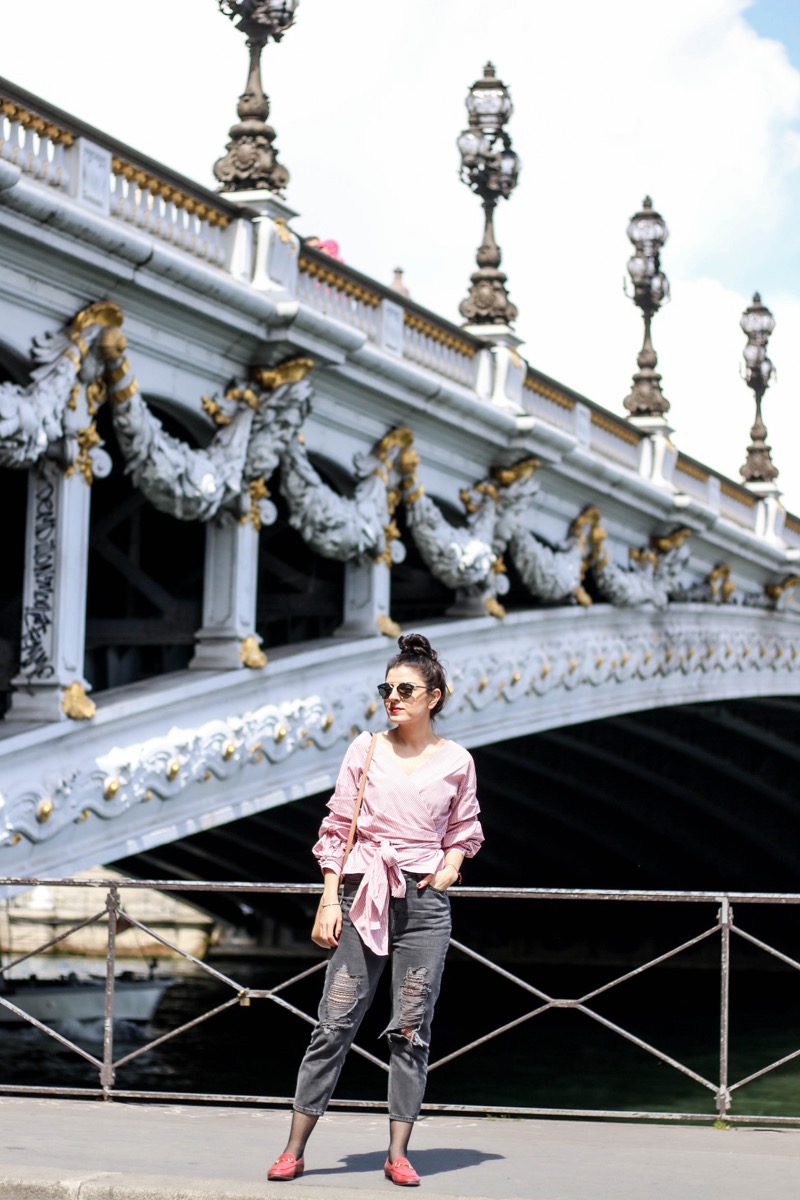 Bonjour, ihr Lieben! Ich bin seit gestern Abend wieder zurück aus Paris und möchte euch gleich mein erstes Outfit zeigen! Wir hatten letzten Donnerstag einen sehr frühen Flug, um genau zu sein um 7:00 Uhr in der Früh. Somit sind wir um ca. 9:00 Uhr in Paris angekommen und hatten noch den ganzen Tag, um die Stadt zu erkunden! Dank dem Stau sind wir erst um halb 12 in unserem Hotel angekommen. Wir hatten noch nichts gefrühstückt und waren ziemlich müde, deshalb haben wir uns direkt auf die Suche nach einem Cafe gemacht.
Die Lage unseres Hotels war wirklich super. Wir haben nämlich direkt an der Oper gewohnt. Place Vendôme und die Saint Honoré waren direkt ums Eck und auch der Louvre war nur ein paar Minuten entfernt. Wir sind direkt durch den Jardin Tuileries in Richtung Eiffelturm geschlendert und  haben einen kurzen Stopp beim Pont Alexandre III, der schönsten Brücke, die ich bis jetzt gesehen habe gemacht. Dort wollte ich nämlich mein Look für den ersten Tag shooten!
Danach waren wir im Café de Paris und haben uns mit einem Club Sandwich und French Fries gestärkt. Da war das Wetter noch etwas sonnig, aber sehr windig und kalt. Danach hat es leider auch schon zum regnen angefangen, aber den Eiffelturm haben wir uns trotzdem noch angesehen. Nachdem wir uns im Hotel umgezogen haben, haben wir uns den Louvre (von Außen) und den Notre Dame de Paris angesehen und anschließend bei L'As du Fallafel zu Abend gegessen. Es wird noch ein "Where to eat in Paris"- Beitrag geben, wo ich euch dann genauer (auch über L'as du Fallafel) berichten werde. Ein Travel Diary wird natürlich auch noch folgen:) Das war's von meinem ersten Tag in Paris! Wünsche euch einen schönen Feiertag!
Shop my Look:
Ripped Mom Jeans: New Look (shop it here)
Shirt: Zara (very similar here & here)
Bag: Gucci (shop it here)
Shoes: Gucci (shop it here)
Fishnet Tights: Asos (similar here)
Sunglasses: Dior (shop it here)
English: Bonjour, lovelies! I'm back from Paris with lots of new memories and impressions. Our flight to Paris was very early in the morning so we had the whole day to explore the city. We brought our luggage to the hotel, which was near the Opera, the Louvre and the Place Vendôme, walked through the Jardin Tuileries, made a quick stop at the Pont Alexandre III, the most beautiful bridge I've ever seen, and afterwards we walked to the Eiffel Tower. We had a quick lunch at Café de Paris which was a bit pricey for french fries and a club sandwich but really delicious.
The weather wasn't the best and it started raining while we wear at the Eiffel Tower. So we decided to go back to the hotel, relax a bit and change our outfits for the evening. While we were relaxing at the hotel the weather turned out to be sunny again in the evening which was perfect. So we were able to visit the Louvre and the Notre Dame de Paris. Afterwards we had dinner at L'As du Fallafel. I'll tell you about that more in my "What to eat in Paris" post which will be online very soon. There will be a Travel Diary as well so stay tuned for that! Have a great day you all!