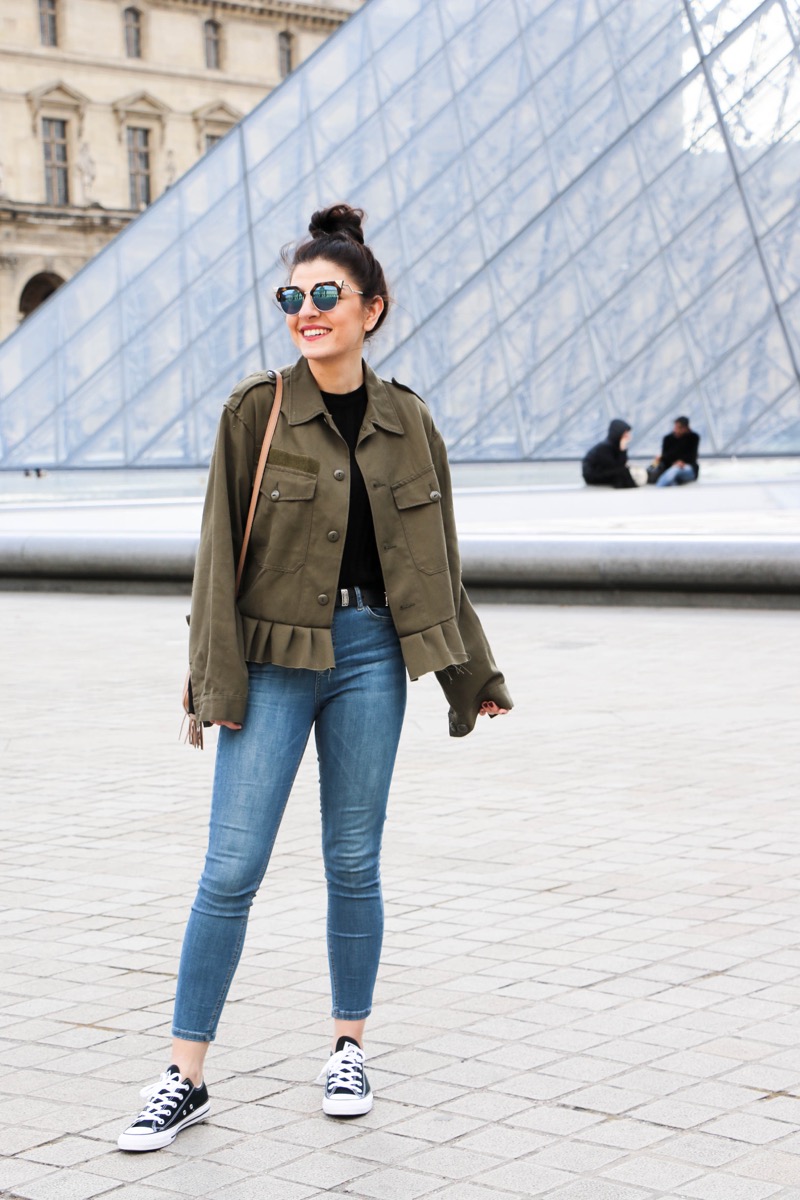 Eigentlich war das Outfit nicht für den Blog gedacht und ich hatte es nicht wirklich zusammengestellt. Ich habe es auch nicht an meinem zweiten Tag getragen, sondern am ersten Tag am Abend. Da ich aber am zweiten Tag leider keine Fotos gemacht habe, weil das Wetter sehr schlecht war, möchte ich heute diesen Look mit euch teilen. Ich bin wirklich froh, dass ich dieses Outfit doch noch geshootet habe. Der Hintergrund mit den Pyramiden vom Louvre Museum lassen nämlich mein langweiliges Outfit ziemlich toll aus, wie ich finde.
Da ich euch von meinem ersten Tag in Paris schon berichtet habe, erzähle ich euch heute einfach was wir an unserem zweiten Tag gemacht haben:) Wir haben uns in der Früh ziemlich Zeit gelassen, da das Wetter bereits ziemlich schlecht war. Danach haben wir uns auf den Weg ins Season gemacht und hatten dort ein leckeres Frühstück. Davor haben wir aber noch ein paar Fotos im Palais Royal gemacht! Nach dem wir uns mit einem ausgiebigen Frühstück gestärkt haben, ging es für uns ins 18. Arrondissement zum Sacre Coeur. Obwohl die Basilica wirklich sehr märchenhaft aussieht, fand ich die Atmosphäre dort nicht so toll, aber vielleicht lag das auch am bewölkten dunklen Wetter. Ein paar Fotos konnten wir zum Glück noch machen, bevor es dann richtig zum Regen anfing. Deshalb konnten wir in Montmartre auch nicht viel sehen, obwohl wir es eigentlich geplant hatten. Diese Gegend wird nämlich von vielen sehr empfohlen, da es dort sehr süße Gassen und Bauten gibt, aber das Wetter hat es leider nicht zugelassen.
Wir haben das schlechte Wetter ausgenutzt, um in die Galleries Lafayette zu gehen und zu shoppen. In meinem Fall war es nur "Window Shopping", da ich leider nicht fündig wurde. Also fündig wurde ich ja eigentlich schon, aber leider waren es nur Sachen, für die ich noch etwas sparen müsste. Danach waren wir noch schnell bei Sephora, gleich gegenüber und haben unsere geliebten Tuchmasken geholt. Dinner hatten wir an diesem Tag bei Ober Mamma, und es war wirklich ein Traum! Mehr könnt ihr in meinem "Where to eat in Paris" Beitrag lesen! Das war's von unserem zweiten Tag. Zum Abschluss meiner Paris Reise folgt dann hoffentlich mein Paris Travel Diary! Bis dahin könnt ihr euch meine restlichen Paris-Beiträge durchschauen, falls ihr es noch nicht getan habt:)
Shop my Look:
Jeans: Topshop (shop here & here)
Sweater: H&M (similar here  & here)
Khaki Jacket: Asos (very similar here)
Sneaker: Converse (shop here)
Bag: Gucci (shop here)
Belt: Asos (shop here)
Sunglasses: Fendi (shop here)
English: On our second day we had breakfast at Season and after that we went to the 18th arrondissement to the Sacre Coeur. It looks magical but I didn't liked the atmosphere there. Maybe that was the fault of the cloudy and dark weather. After a little foto shoot it start raining and we couldn't explore Montmartre which was our plan for that day. So we had a change of plans and went shopping at Galleries Lafayette. Afterwards we had a little break at our hotel room and ended the day with a dinner at Ober Mamma. It was a great ending. You can read more about that here.